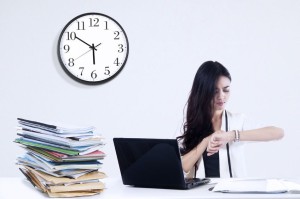 Employee productivity is a major concern for any manager, but it can be especially difficult to keep an eye on when some or all of your team works remotely. If you've experienced a drop in productivity among your telecommuting employees, then try out these strategies for increasing efficiency on your team:
Use Time-Tracking Software and Organizational Apps
A common concern managers have with remote teams is the lack of accountability when it comes to tracking hours and staying on top of tasks. Fortunately, there are several time-tracking software programs available to streamline your team's time sheets, and organizational apps can help you delegate tasks to other members of the team, make comments along the way, and adjust deadlines whenever necessary.
You won't be able to maximize your team's productivity by leaving everything to chance and traditional email communications. Apps and software programs can be a tremendous help.
Set Manageable Goals
Having high expectations isn't necessarily a bad thing, but excessive demands – especially when communicated via email or text – can be seriously demotivating for your team. Your best bet is to strike a balance between maintaining a heavy enough workload and enough flexibility to account for assignments and tasks that might need their deadlines extended. Manageable goals are significantly more motivating for employees because they get to experience small successes along the way, as opposed to stressing out over one huge goal that could be months away from attainment.
Make Yourself Available
One of the biggest issues with telecommuting workers is the disconnect that can occur on time-sensitive projects. Since you can't simply walk across the office to a coworker's desk to ask questions whenever they arise, team members need to be readily available during their working hours to ensure there are no out-of-control fires spreading under the radar.
However, forcing employees to check their emails whenever a new message appears in their inbox can also be a productivity killer. This means that you as the manager should set up a system for categorizing issues of importance and communicating errors and questions based on your system. For instance, you might tell your team to call you whenever a serious issue crops up, but less important or time-sensitive matters should be relegated to emails. Additionally, you should encourage your team to reach out to the next person in the chain-of-command if you're unavailable because efficient delegating is one of the best ways to minimize problems and maximize productivity.
Ask for Daily or Weekly Summaries
This might seem cumbersome for remote employees to adjust to in the beginning, but daily or weekly summary emails are fantastic ways to get a fuller glimpse at what they accomplished during the day, any issues that arose, and what's left to do. These recaps also help communicate any questions or concerns to you in one comprehensive email (instead of clogging your inbox with questions emailed separately).