Happy and engaged employees are also productive. Unfortunately, according to the State of the American Manager report by Gallup, only 35% of employees in the United States are actively engaged. Not only does this harm productivity, it can also result in high turnover and low quality work. If you're struggling to increase employee engagement, try these four tips: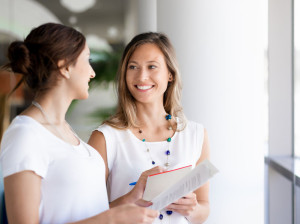 Foster relationships between managers and employees
Strong managers are the key to keeping employees engaged. In fact, one of the most commonly cited reasons that employees leave their jobs is a poor relationship with their manager.
Often, managers are stuck in an awkward position trying to squeeze performance from their teams to meet the demands of the company. This squeeze can result in animosity toward the manager, low engagement, and high turnover. For this reason, companies should actively focus on keeping the relationship between managers and their teams healthy. This may involve easing up on deadlines, hosting social events, or shifting teams until groups with better synergy are found.
Give employees productive work and direction
Employees need to feel like their work matters. If they get the notion into their head that what they do is having no positive outcome on the company they will quickly disengage. Make sure your employees understand why they are performing a task. Furthermore, give your employees direction on where they can improve. If they are left to their own devices, they may get discouraged or stop working.
Set smaller goals and easier deadlines
Completing a task feels good, even if it's a small one. Turns out, this is chemically represented in our brains, through the release of dopamine. Having a to-do list with specific tasks increases the release of dopamine and keeps employees engaged. Unfortunately, these positive effects won't last if your employees feel like they are always behind in their work. Therefore, consider extending their deadlines to keep them engaged.
Financial transparency
Sharing exactly what's happening with your company helps employees feel like they're integral members of the team. This means communicating both bad and good news. It's easy to share the good news, but employees want to be in the loop. Don't be afraid to keep everyone in the know. It can make a significant difference in employee buy-in and company morale.
At Payroll Office of America, we offer a variety of HR services to help your team be its best. To learn more about our service offerings and capabilities, please click here.