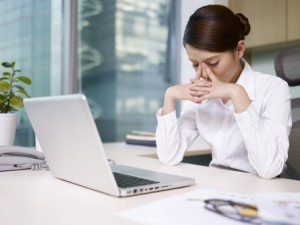 Dealing with stress is no easy task. Whether you're facing an important deadline at work, having trouble getting your kids to do their homework or struggling with a to-do list that seems to grow longer each minute, stress is an inevitable part of the lives of most Americans. Even though it's difficult to avoid stress, there are smart ways to manage it. Here's how to make stress, well, less stressful.
Take one thing at a time. Oftentimes we get stressed out when we have a lot on our to-do list. So we try doing multiple things at one time. Here's the problem: Research shows that multitasking makes most people more stressed, not less! Studies also suggest that multitasking doesn't help most people increase their productivity. Focusing on one important task at a time can help you get more quality work accomplished, which can help relieve stress.
Establish boundaries. In today's world, it's easy to feel pressure to be available 24 hours a day. But all the connectivity can cause stress. Establish some work-life boundaries so that you get a rest from work. You could, for example, have a no-phone policy while you're having meals with your family or block off time each evening to not answer texts or e-mails. Don't let your vacation time go to waste. And make sure you commit to unplugging from work and technology at regular intervals.
Keep your to-do list as small as possible. It's been shown that people who make to-do lists tend to get more done. However, if your to-do list is too long, it can be counterproductive. Try to keep your to-do list realistic and manageable.
Eat healthy and get enough sleep. Getting too little sleep and snacking all day on processed foods with little nutritional value and relying on caffeine to get through the afternoon can make you feel more stressed. Research shows that simple things like getting enough sleep, eating healthy and taking short walks throughout the day can be powerful de-stressors. Try to make small changes each week, such as bringing a healthy snack to the office or going to sleep a half hour earlier. Remember that it takes about a month for most people to form a new healthy habit.