It's time to ditch the cluttered paychecks and go all in on a paperless, streamlined payroll solution. After all, no employee wants more clutter on his or her desk. And most workforces are still remote anyway.
Plus, employees want additional access to their paychecks that allow them to see tax deductions, insurance deductions and the percentage of money taken out for 401k contributions. Make it easier for employees to stay in the loop by updating your payroll system. Here's how to make sure it's employee-friendly: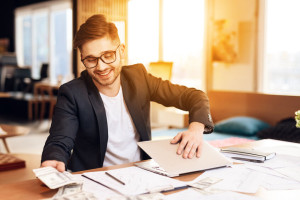 1. Go paperless
As we mentioned before, going completely paperless is the preferable option, especially for an office full of younger employees.
However, if you don't have the option of going full paperless right now, allow employees to opt into the paperless settings by logging into their payroll portal. The more trees you can save by opting in to this setting, the better!
2. Create full transparency
If an employee is to feel comfortable in the workplace, they'll want to feel like their salary, benefits, PTO and other perks are completely transparent with the organization they are working for.
Go for a payroll system that easily displays the pay period, gross pay, tax deductions and more in nice organized columns to help the employee to feel more at ease when payday comes around. You'll be surprised at what a difference being more internally organized makes on your employees.
3. Make taxes easier
At Payroll Office of America, our system already has tax structures built into the software that support regional requirements and tax structures. This makes it easier when tax time comes around because you can easily pull any data you may need to correctly file taxes for the year. Easy-peasy, and your employees will thank you for it!
4. Download the app
Many payroll software like ADP have an app you can download to allow you to view important financial information at any moment from your mobile device.
This information is completely secure because it often requires a complex password or Face ID to view. Just be sure not to share any of your financial information with anyone while you're in the app. Simply get the information you need quickly and then log out securely.
If you'd like to learn more about the payroll services at Payroll Office of America, visit our website to read more blog posts and browse through reviews. We'll be in touch soon with more details!